When you're in the French Alps, surrounded by beautiful scenery, you see so many people hiking up and down the mountains. You start to think, "Maybe I should do that, too!"
But then you realize you're not an avid hiker who has come fully equipped with all the right gear or, perhaps, you aren't even fit enough to deal with a long hike. You're more of a city-slicker who just wants some fresh air and great views. What do you do?
You do what I did: Take a deep breath and "Go for it!"… Cautiously.
I'm not a hiker. I don't have hiking poles or hiking boots.
I am fairly fit, however, and I like to do outdoor activities: walking, biking, kayaking and running. And if the opportunity arises to try something new or different, I'll go for it – just for the experience.
When I was visiting the French Alps a while ago, I decided I wanted to hike. It didn't look that hard. Put on some sturdy shoes or boots and walk upwards, right? Not quite.
Tips for hiking the French Alps
So, if you're like me and want to hike because the mountain is before you, here are some tips for hiking the French Alps:
Do some research on the hiking trail. Be sure you understand what kind of trail is being recommended. Determine if it's for novices or experts. Talk to locals or folks at the tourist office and make sure they realize how experienced (or inexperienced) you are.
Consider taking a hiking route that has a refuge (place for food, lodging and washrooms) or restaurant on the trail. Stop for a coffee or lunch. This is one thing I really loved about hiking to the Refuge du Nant du Beurre.
Not all hiking paths are alike. Some are just paths – flat and smooth with hardly any rocks or stones. Some are very rocky so you need to look down most of the time, carefully placing your foot so you don't trip. When you are heading uphill, it might feel like you're climbing stairs… hundreds of stairs. You'll be lifting your legs higher than usual and placing your feet carefully on the next rocks.
Your knees will thank you for taking two hiking poles, regardless of the terrain. I was able to borrow a pair of hiking poles from the bed and breakfast resort where I was staying. Thank goodness I did. I used the poles to guide me up and down the path, to support me momentarily as I maneuvered through rocky areas, and to provide a cushion so my knees wouldn't have to bear all the impact. They provided a bit more stability for me as I hiked.
Footwear: I wore trail running shoes. In my case, I decided to buy these as they're perfect for winter running. I felt they could serve a double purpose – I could use them for both hiking and running. The downside is they offer virtually no ankle support. I was fine for the hikes I took but true hiking boots would have offered more support. It depends what kind of trail you take; trail running shoes might be fine if the path is entirely smooth. Forget flip flops and sandals, however. You need a shoe that has a good tread and support.
Carry a knapsack that contains a lot of water (a must), snacks, sunscreen, bug spray, first aid supplies and a map.
Wear sunscreen and a hat. Rain gear is optional.
The two hikes I did in the French Alps were completely different from one another.
One had open fields and smooth paths. The sun was always shining down on me as there were few trees. The other hike was much more challenging with more rocks and streams to hop over. The path was often covered by the trees, providing shade but obscuring scenic views. You might enjoy one over the other, depending on your hiking abilities and preferences.
---
What's appealing to the over-50 luxury traveler?
Many luxurious resorts and B&B establishments in the French Alps can provide picnic lunches (and hiking poles if you haven't brought them.)
Foodies will be in heaven in this region. Savoie Mont Blanc is known for its cheeses (e.g., Reblochon, Emmental, Tomme de Savoie and Beaufort) and charcuteries.
Take note
Hiking can be done at any age and fitness level. You can go at your own pace. What's important is the type of hike that is chosen: easy, moderate or difficult.
While many think the French Alps are for winter sports, summertime is equally popular and busy, so don't leave your bookings until the last minute.
---
Be sure to get the whole scoop on hiking the French Alps on France Travel Tips!
---
*All photo credits: Janice Chung 
---
Share GOT on Pinterest!
(Just hover over the Pin below.)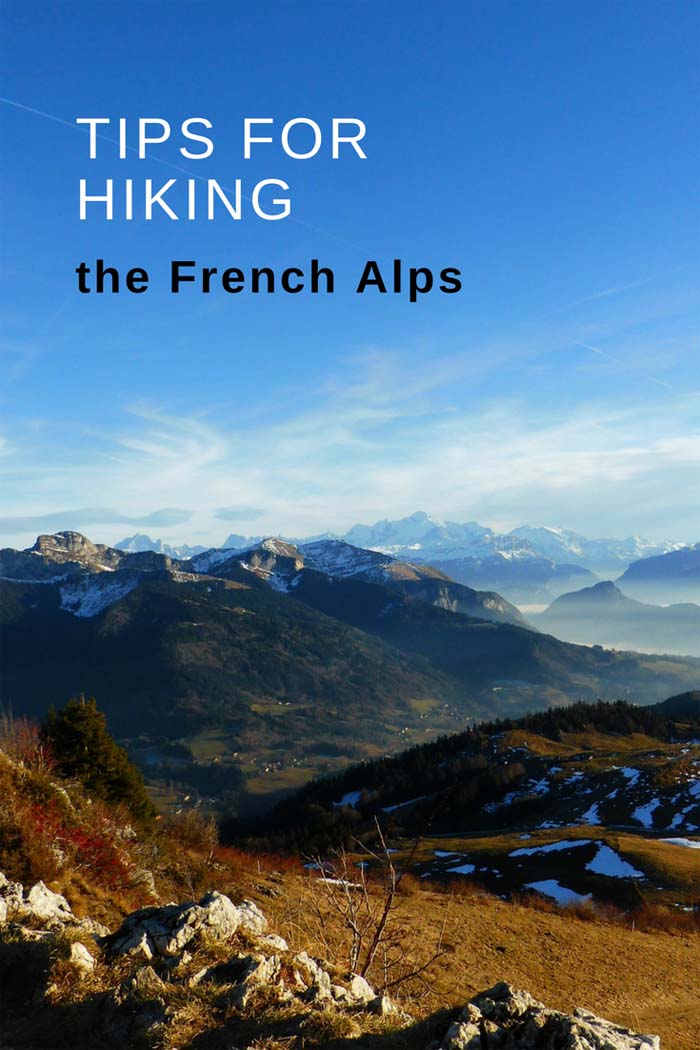 ---